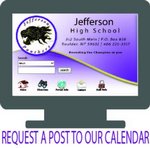 Post your Event on our Webpage
Have your community event posted to our Website and Calendar
To have your event posted to the News section of our website and placed on our calendar click on the "Request a post to our Calendar" icon on the right side below the link to School Calendar.
Information you need included in the posting must be in the "Story" section of the form.
Any information you need to us to know that does not need to show in the posting goes in the "Additional Comments"
"Teaser" is a highlighted subtitle