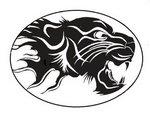 Once a Panther, Always a Panther!
LUNCH:
TODAY: Sloppy Joes, Salad bar
9/21: Taco Salad
9/25: Cheese burgers, salad bar
9/26: Chicken Fried Steak, mashed potatoes, salad bar
9/27: Lasagna, salad bar
9/28: Tomato soup & grilled cheese sandwiches with salad bar.
Fresh or canned fruit and 1% milk served daily.
Sports:
FOOTBALL: Friday 9/22--@ Manhattan @ 7:00 p.m.
JV football vs Manhattan at JHS at 4:30 on Monday Sept 25th.
VOLLEYBALL: 9/21 at JHS vs Three Forks at 4:00 . Dismiss players at 3:15.
9/22: @ Manhattan. Leave JHS at 1:15 This is a double header game.
9/23: @ Whitehall. Leave JHS at 3:45.
CROSS COUNTRY: @ Butte. Leave JHS at 9:00 a.m.
General Announcments
HOMECOMING NEXT WEEK
Monday is Hippie Day
Tuesday is Twin Day
Wednesday is College Day
Thursday is Spirit Day
Model United Nations (M.U.N.) Meeting at 12:15 Thursday in Mr. Bieler's room.
The following students need ot pick up their Yearbook from the Library: Ashley Pankratz, Lillian Keough and Callie Warfle.
The regular NHS meeting will be Thursday at lunch.
Mariah's Challenge Club will have there 1st meeting for this school year on Wednesday at lunch in the library. All are invited to attend. Hope to see all interested students there.
Thespian Meeting Wednesday Sept. 20 at lunch in Mr. Hesford's room. Bring your lunch.
Sign-ups for Macho Volleyball and Powder Puff Football are at the office window. Powder Puff players need to have parent release forms signed. Please sign-up by Thursday, September 21st.
Thought for the day:
"Bullies are often thin-skinned, quick to overreact when challenged, and undone when people are no longer afraid to speak truth to their face."
~ Dan Rather
Have a great day JHS!