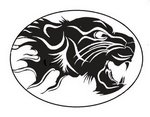 Once a Panther, Always a Panther!
LUNCH
TODAY: Tater tot casseroles, salad bar
11/20: BBQ Pork Sandwiches, salad bar
11/21: Thanksgiving Dinner
Fresh or canned fruit and 1% milk served daily.

Sports:
VOLLEYBALL: Be sure to get uniforms turned into Mrs. S. or Mrs Williams ASAP.
Winter Sports: Practice starts November 16 for Boys and Girls Basketball, Wrestling, and Cheerleading. Students must have a current physical turned into Mr. Liedle.
Activity Bus: There is no activity bus Monday, Tuesday. There will be the normal activity bus on Thursday after practice.
Athletic Participants before any practices can be done a concussion form, a consent form, and a physical must be turned in to your coach or the office.
Girls Basketball: The practice bus will leave Montana City store at 5 am. All practice busses will make normal stops. Boys basketball and Wrestling: Practice bus leaves Montana City Store at 8 am and will return from JHS at 11:15 am. Bus will pickup Girls Basketball players at noon and leave JHS at 2:30 to bring kids back.
General Announcements

BPA is selling socks for $18. See Britton, Ellie, or Neve if you'd like to order.
BPA regional fees are due today!!! No payment means you don't compete.
NHS students: Please bring your baked goods on Thursday. Need workers 9-10:30
NHS meeting this Thursday in Mrs. Foster's room. Bring your lunch.
NHS Bake Sale at Boulder Bank and Montana City Bank from 9-3
Seniors please fill out your class motto and graduation speaker paperwork and turn it in to your English teacher.
Mr. Smith will be doing concussion testing in Mrs. Smartnick's room 8th period oday. Anyone poarticipating in winter sports who has not had one needs to take it before you can practice.
MUN students: Pwork session after schol today and tomorrow at 9:30 am. Leave time is 1:00 on sunday
Thought for the day:
"You are the onlt one who can use your ability. It is an awesome responsibility."
-Zig Ziglar
Have a great day JHS!