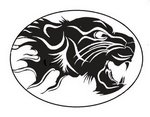 Once a Panther, Always a Panther!
LUNCH
TODAY: Breakfast for Lunch
1/22: Lisa's Home Made Pizza
1/23: Chicken Noodle Soup
1/24: Sloppy Joes
1/25: Taco Salad
1/29: Cheese Burgers
1/30: Chicken Fried Steak
Fresh or canned fruit and 1% milk served daily.
Sports
BASKETBALL
Friday January 19 here vs Whitehall.
3:00 pm: C Boys in the North gym
4:30 pm: JV Boys in the North gym, JV Girls in the South gym
6:00 pm: Varsity Girls in the North gym
7:30 pm: Varsity Boys in the North gym.

Saturday January 20 @ Manhattan. Bus leaves at 12:15 pm, games start at 2:00 pm.
WRESTLING
Thursday January 18 @ Deer Lodge Mixer. Matches start at 6:00 pm. Bus leaves at 3:15 pm
Saturday January 20 @ Great Falls Central Duals. Matches start at 8:30 am. Bus leaves at 5:00 am
General Announcements
Seniors please remember to get your senior pictures and a baby picture into Mrs. Layng for the yearbook by February 1st. If you don't get pictures to her, your Lifetouch picture will be used.
The annual NHS Red Cross Blood Drive will be held on Wednesday February 7 from 2:30-6:30. The sign up sheet is at the office. If you donate 3 times at Red Cross Blood Drives during your high school career you will recieve the Red Honors Cords to be worn at graduation. There are also other student oppurtunities for scholarships if you help out at blood drives. Forms for parental consent and sign up sheets are at the front office. See Mr. McCauley for more details.
NHS Meeting today at lunch.
Youth Alive meeting in the band room at lunch on Monday.
Mr. Heimann is organizing another ski day for JHS students, staff, and parents on February 23rd to Great Divide. Transportation will be via carpool. Stop by and see Mr. Heimann in the shop for more details or to sign up.
Thought for the day:
"You never really understand a person until you consider things from his point of view… until you climb into his skin and walk around in it."
~ Harper Lee
Have a great day JHS!