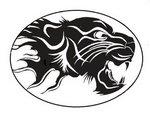 Once a Panther, Always a Panther!
LUNCH
TODAY: Lasagna
4/26: Tomato Soup and Grilled Cheese
4/30: Deli Bar Sandwiches
Fresh or canned fruit and 1% milk served daily.
Sports
Track -Thursday in Helena for the Small Schools Meet. Leave JHS at 2, Meet starts at 3:30. Please get consent forms in before you leave
-Saturday in Bozeman for the Manhattan Christian Meet. Leave JHS at 6:15. Meet starts at 9
Tennis -Thursday here at JHS against Townsend Matches start at 1:30 dismiss the girls at 1:00
Get consent forms in
-Friday and Saturday in Helena for the Dawg Bite Tournament, Leave JHS at 7:15
Golf -
General Announcements
ATTENTION TEACHER'S AIDES: If you are an aide any period today, Mrs. Lorie Carey and Mrs. Mann would appreciate help doing ballots. Please go to the district office.
Seniors please sign up for the 3 person bowling team for senior skip day by noon TODAY. Senior Skip Day is May 2nd. If you don't sign up for a team, you will be paying out of your own pocket. Sign up by noon on April 25!
Seniors please pay Mrs. Foster for your roses by May 9th
Any seniors who have donated blood at least 3 times during your high school career need to see Mr. McCauley ASAP so he can verify that you've earned Red Cords and ensure you have them for graduation
Student Council elections are May 9th at lunch in the cafeteria.
Student Council meeting next Monday at lunch in C104.
NHS members please remember to give Mrs. Foster your $10 dues by May 10th.
NHS members please remember to get your consent forms signed for Friday's Adopt-A-Highway cleanup. The leadership workshop starts at 9am in the cafeteria.
Hat Day on Thursday. Bring $1 to wear your hat all day. Remeber hats must be school appropriate.
The following seniors need to turn in either senior and/or baby pictures to Mrs. Layng by the end of the day tomorrow for the Yearbook: Trevor Giulio, Montana Trujillo, Jason White. Nathan Rasch.
Order your yearbook now! Yearbooks are on sale at a reduced price of $25 until May 15. Order forms are at the front office and the library.
Thought for the day:
"Judge less."
~ Habits for Happiness
Have a great day JHS!